Englisch Award of the Pan-American Architecture Biennale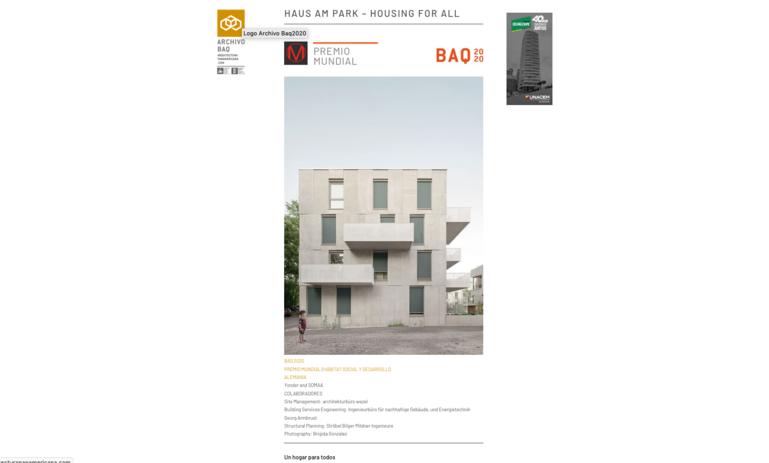 Im Rahmen der panamerikanischen Architekturbiennale wurde das "Haus am Park" mit dem "Internationalen BAQ Award für Sozialen Lebensraum und Nachhaltige Entwicklung" ausgezeichnet. Das Wohnprojekt in Tübingen wurde von SOMAA seit 2016 gemeinsam mit dem Büro Yonder und dem Soziologen Gerd Kuhn entwickelt und ist seit vergangenem Jahr bezogen.
Das Haus am Park ist eines der Gewinnerprojekte bei der Weltauszeichnung "Sozialer Lebensraum und Entwicklung"
Ausgezeichnet wurden Projekte, die darauf abzielen, die besten Architekturpraktiken zu identifizieren und zu fördern, die einen positiven und greifbaren Einfluss auf die Verbesserung des Lebensraums schutzbedürftiger Personen oder Personengruppen haben und eine wirksame Transformation (sozial, gebaut, ökologisch) des bestehenden Systems in ihrem Umfeld auf die unmittelbare Umgebung bewirken.