Are there Existing Structures?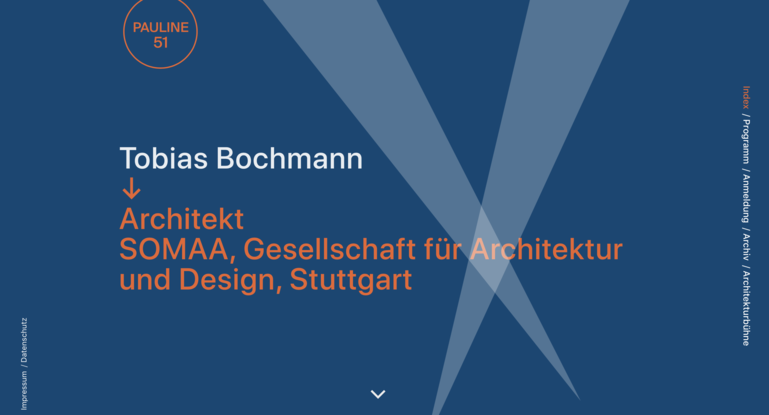 In the "Pauline 51" in Stuttgart on 14 March 2019 at 6 pm everything will revolve around the inventory. SOMAA, represented by Tobias Bochmann, will also be on stage, sharing among other experts the office's many years of experience in dealing with existing buildings. Potentials and risks. Input and discussion. Click here for the organizer.
Further information
Programme
6:15 p.m.
Modern architecture: protected monument of tomorrow?
Rudi Schricker, Prof., graduate interior designer BDIA
Stuttgart, Coburg
18.30 hours
Act One
Experts define current status and attitude in the conception and planning of modern architecture in the context of existing buildings. An in-depth exchange of experience of recently realized projects.
Proven and encouraging -
interface architecture -
between think! and high tech
Impulse insertion
"Nothing ventured, nothing gained!" New content in the context of old building fabric
Sonja Neugebauer, Architect BDA
Neugebauer+Rösch architects, Stuttgart
Impulse insertion
"Harmonious insertion of ultramodern elements in grown housing" How much Bauhaus is there in designs of modern architecture?
Matthias Bauer, Architect BDA
MBA/S Matthias Bauer Associates, Stuttgart
Impulse insertion
"what makes architecture; zeitgeist - the reproduction of the new"
Wallie Heinisch, architect
METARAUM Architects BDA, Stuttgart
Impulse insertion
"respect the existing and generate new"
Tobias Bochmann, architect
SOMAA, Society for Architecture and Design, Stuttgart
7:45 p.m.
Discussion and exchange
8:30 p.m.
Act 2
Experts venture a look into the future: How much leeway does new architecture have?
Does the future lie between preservation and risk? "Old" fashionable or hypermodern architecture?
One hour in the round
One hour in the round: design philosophy and attitude, insight talk and exchange of experience, expert recommendation and impact assessment Exchange of experience and courage to find unconventional solutions
On the podium and in the middle of the auditorium, impulse contribution, advice and recommendation "Courage for the new - Hope for the tried and tested" and "Tell old and new architectural stories".
Moderation: Prof. Rudolf Schricker
21.30 hours
Summary and knowledge gain
Discussing conclusion with gastronomic accompaniment
10:00 p.m.
End of event
*For the course, an evaluation by AK BW in the sense of vocational further training of 2 hours is approved.
Published on
13 Mar 2019